I am so pleased I have made space for this Yoga Training. The time I have given to myself is invaluable because I feel such a transformation within me.

'The Creative Spirit of Yoga' is amazing! It is a fundamental step in my life that I could not skip on my yoga journey. It is a part of me.

Angie, Tin Can Bay
The Creative Spirit of Yoga is Amazing 💚🌿

Deeply heartfelt and enriching and nourishing for your body, mind and spirit💚

I went there a few times and thought…..nope I can't do it…..then realised I was being guided every step of the way…….And when I moved thru the self-doubt……… the empowering feeling was AMAZING💚🌿 So what are you waiting for?? I dare you!! This Gift is for YOU.     
Gail – Jag Fitness & Pilates, Beewah
I had an incredible time experiencing Gerry's teachings of the essence of yoga. I have travelled to India studying yoga for the past 20years only to find it here at my back door. The temple and surroundings are heavenly – a safe and sacred space. Gerry shares the simplicity of yoga from a place of vulnerability and gratitude offering knowledge that is brought to light in your own understanding.
Anita – Gympie
About Gerry Hillier, Founder of To Touch the World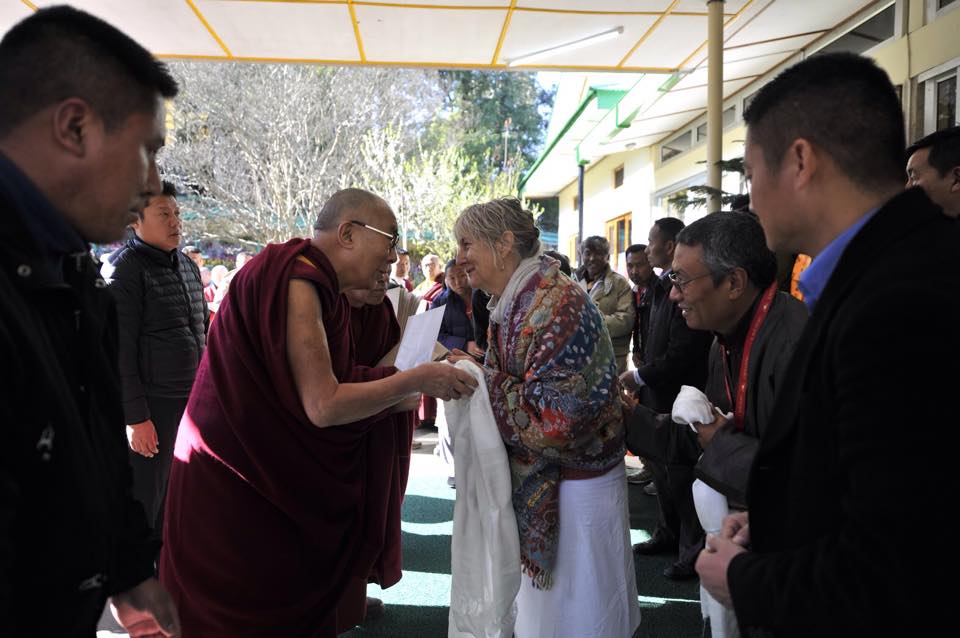 Meeting His Holiness the Dalai Lama, in India
'Every moment contains a story. I like to gather them, store them and use them as medicine for myself and others.'
Gerry Hillier is a collector and creator of stories. Whether she is conducting yoga classes or workshops or healing sessions; whether directing or writing stage plays or books or teaching creative expression, Gerry is, in essence, creating stories and listening to the stories of others – stories that touch and heal the world.
Gerry has trained with various yoga teachers and different schools of yoga—and continues to do so—but has developed her own style of creative yoga expression, which continues to evolve through her own study and experimentation.
She has taught yoga and conducted workshops in self-awareness and creative expression with adults, teenagers and children for over three decades. Gerry is also an author, playwright / director, counsellor, mentor and speaker.
Gerry is available for Private Sessions.