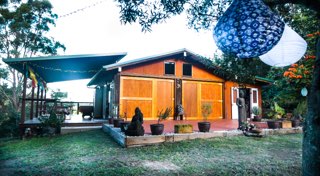 Workshops offered at The Gift
All of the following workshops are offered at The Gift.
They may also be booked by a group for a specific time.
If you would like to purchase one of these workshops for your SMALL group, please contact us.
Or use the BOOK NOW button for upcoming workshops.
(Payment Plan is available at Checkout)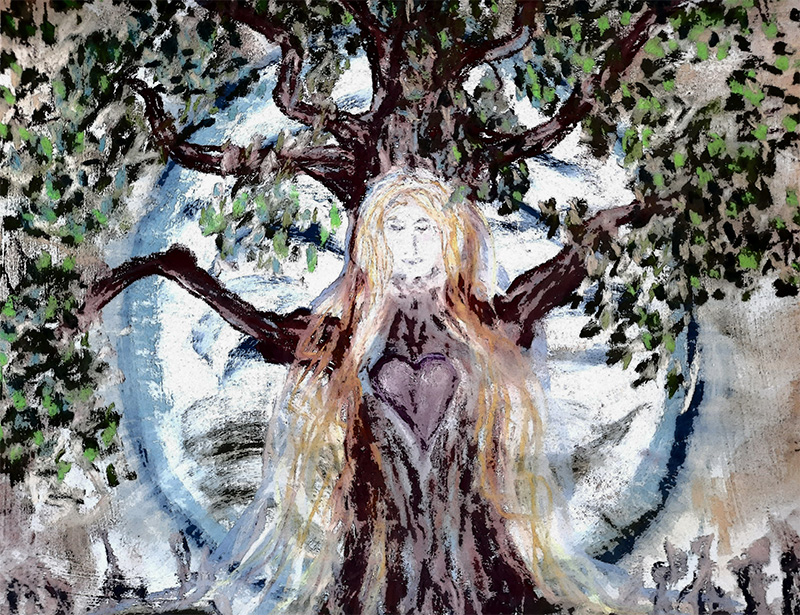 Tickets $555
(Early bird tickets are available till 30th April $499)
Nourishing vegetarian food and campsite included
My Heart – My Tree | The Story of My Spirit
transformational healing retreat in Noosa Hinterland
12th – 14th May
Treat yourself to this gentle yet powerful three-day retreat. Camp under the stars. Explore Connection, the nature of Courage and Resilience, Trust and Surrender. Open your heart and listen to your own heart song.
Activities:
Yoga and Meditation
Sound Healing – Sound Therapy
Heart Healing Channellings
Music, Chanting, Singing
Creative expression, exploring different mediums
Nature walks and tree planting
Nourishing food
Campfire celebration
Itinerary:
Thursday May 11
Arrive any time after 3pm – Set up camp
6.30pm – Dinner
7.30pm – Welcome
Friday May 12
6.30am – Meditation and Yoga in Yoga Sanctuary
8.30am – Breakfast followed by free time
9am – 11am – Massage and Sound Therapy available
11am – 1pm Creative Expression Activity – Beginning the Story of My Spirit – my roots
1pm – Lunch
1.30 – 3.30 – Massage available
3.30pm – 5.30pm Sounds of Connection
6.30pm – Dinner
7.30pm – Sound Healing in Yoga Sanctuary
Saturday May 13
6.30am – 8.30 am – Meditation and Yoga
8.30am – Breakfast followed by free time
9am – 11am – Massage and Sound Therapy available
11am – 1pm Continuing the story of my spirit – strength of trunk
1pm – Lunch
1.30 – 3.30 – Massage available
3.30pm – 5.30pm – The sounds of my heart
6.30pm – dinner
7.30pm – Kirtan
Sunday May 14
6.30am – 8.30 am – Meditation and Yoga
8.30am – Breakfast
9.30am – Tree planting ritual
10am – 11am – Free time, Massage available
11am – 12pm – Sharing and Closing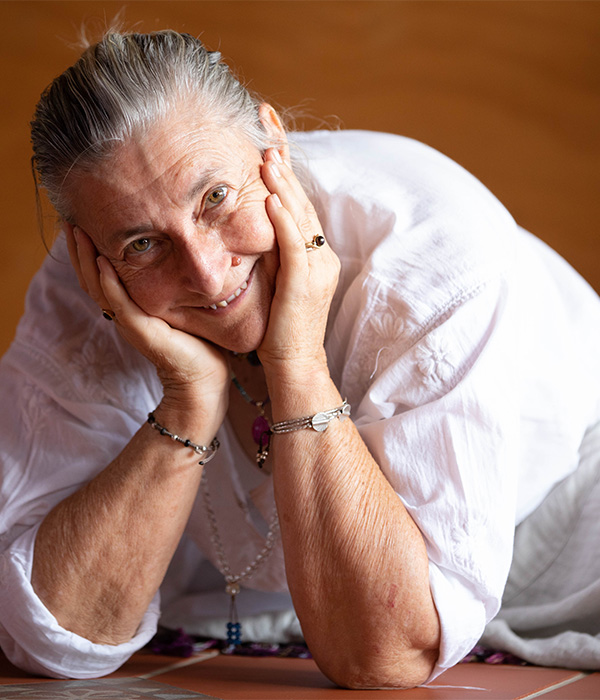 Gerry Hillier
Gerry Hillier combines her experience and understanding of creative expression with the philosophy of yogic tradition to bring together
dynamic workshops which facilitate self-inquiry and discovery.
She promotes dramatic art, intuitive art, intuitive voice, writing, movement, meditation and relaxation as pathways to personal development, healing and inner stillness.
It is through these mediums Gerry encourages participants to explore their sense of self and their place in the world and open their hearts to their own goodness and that of life.
Gerry is also a writer and author.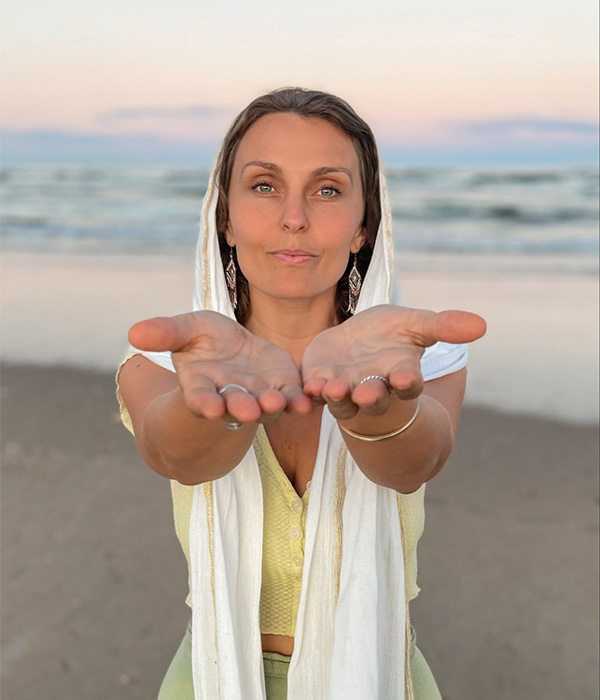 Emmy Veena
Emmy Veena, is a Swedish-Australian music lover & singer who's passion is to share sound & song and its ability to open our hearts to the divine.
Over the last few years she's been holding kirtan-inspired song circles here on the Sunshine Coast.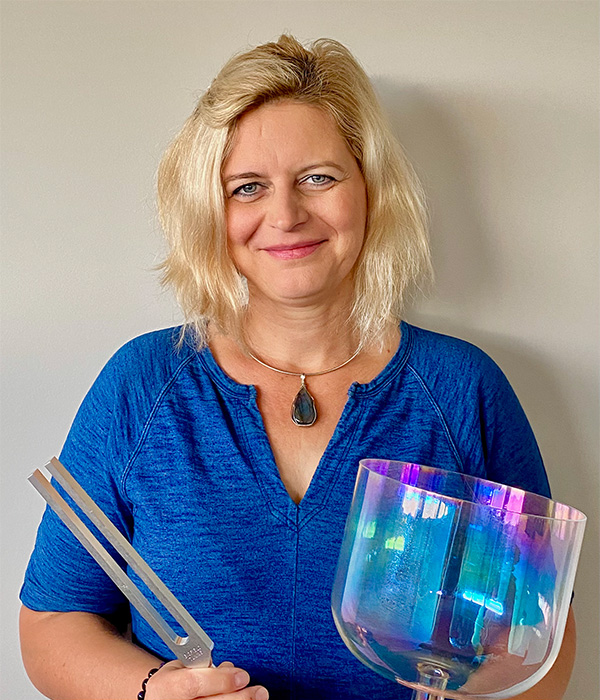 Eva Klenovics
Eva Klenovics is an Advanced Sound Therapist in Biofield Tuning, a Professional Sound Healer and Breathwork Practitioner; who not only gives personal treatments but holds Sound Baths for groups in various locations.
Her innate intuition, warm personality and enthusiasm for healing and helping people support her to further enhance her clients' ability of self-healing to reach a harmonious, relaxed lightness of being.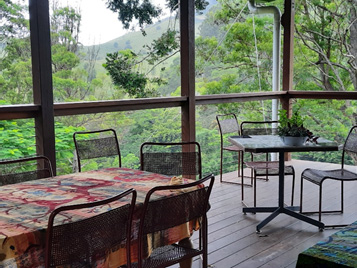 A man to be greatly good, must imagine intensely and comprehensively; he must put himself in the place of another and of many others; the pains and pleasures of his species must become his own. The great instrument of moral good is the imagination. Poetry strengthens that faculty which is the organ of the moral nature of man in the same manner exercise strengthens a limb.'
Percy Bysshe Shelley
Writer's Retreat
Sharpen your pencils – it's time to write.
Imagine two days of morning yoga, delicious food, time for reflection, writing and sharing whilst ensconed in the beautiful surroundings of Hillier Retreat.
Writing is a means of expression and communication. Writers plant seeds. Throughout history the written word has proved 'more powerful than the sword'.
A writer is an independent, empathic thinker who understands 'inner listening' and the need for solitude.
A writer therefore develops a strong relationship with intuitive, imaginative thought and learns to trust this process.
There are many who long to write but do not trust their ability or make space to explore openly and honestly what it is they wish to express, and how they wish to express it. This retreat allows for such exploration.
If you long to write, or simply need to create the space to follow your commitment, take the time to honour this calling to connect with your writing voice.
Arrive Saturday October 29,  3 – 6pm to set up camp.
Depart Monday October 31, 3-4pm.
Bring camping gear. Meals catered.
$425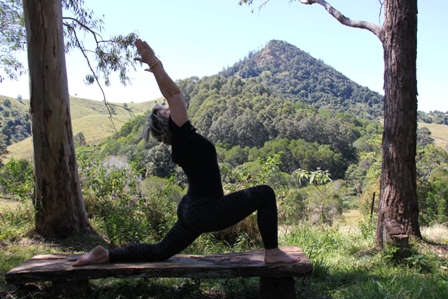 I want to dissolve
in the movement of my soul
complete in the rising and falling;
when the tide of this dance
moves across the space
of my being.
I want to dissolve
In the movement of my soul
visible only
to these sacred eyes;
to let the body of me succumb
surrendered at last
to that which aches its destiny;
blended
strong without illusion
a blinding vision.
Rain blesses the earth of me.
This Body of Movement—Yoga, Movement & Dance
Movement is more than physical accomplishment. It integrates intellect, emotions, the physical body and the spirit.
Freedom of movement allows for mental and emotional freedom.
Movement invites us to know our self and the rhythm of creation within us.
Movement can be an intrusion into a space or an awareness of space and vibration. It can be connected or disconnected from what surrounds it.
Exploration and Inquiry:
Reprogramming the body through movement.
Movement as expression, voice and healing.
Movement as devotion.
Form and movement
Formlessness and movement
The body of all – seen and unseen
This surrendered form.
Morning yoga and meditation
Yoga Dance
A Celebration of Spring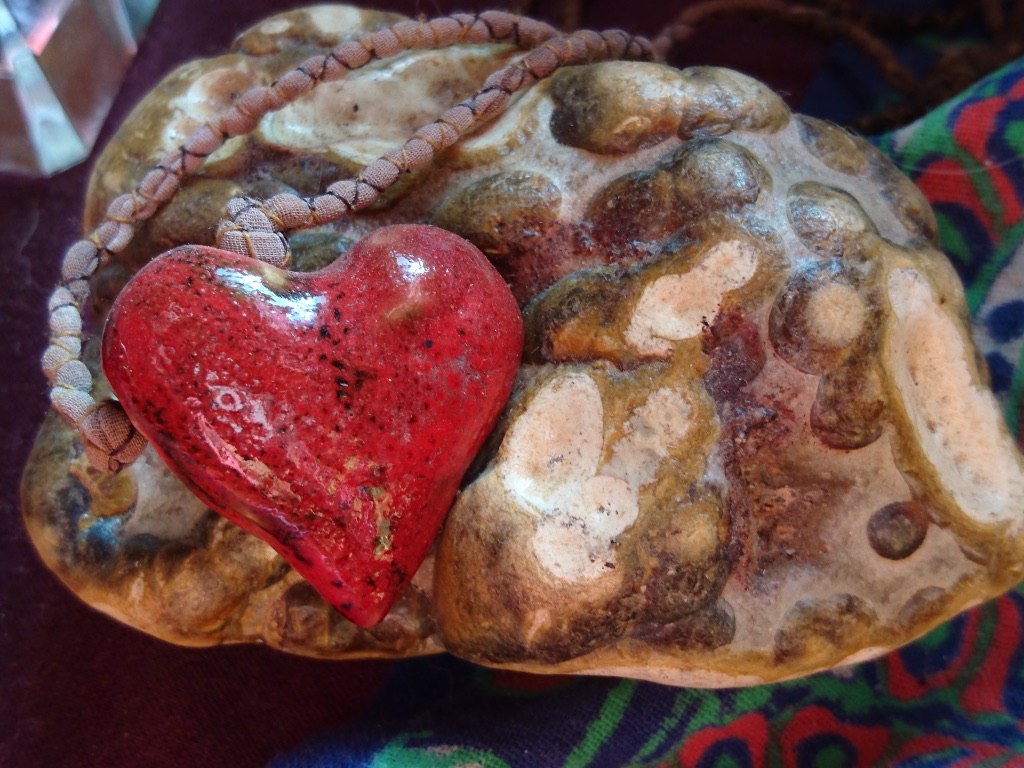 The Intelligent Heart, a Window to Eternity
The Intelligent Heart is a course comprising of five workshops that have their origin in the book The Red Dove—an inspirational story of the journey to completion.
It sees the heart as intelligence—a mind that can direct the course of enlightened living.
This 'mind' understands that love is the basis of living and this love encompasses beauty, devotion, reverence and compassion—in essence, sacred living.
When combined with the will of brain and gut 'mind' the heart 'mind' becomes a compassionate impetus that manifests our deepest longing and becomes a powerful force in the world.
Activities Include:
Intuitive art & writing (may include textile art – eco dyeing and ceramics)
Creating a heart journal
Yoga (modified to suit individuals) & expressive movement
Silence, contemplation & stillness
Workshop 1
The Heart—physical/metaphysical
The gateway to spiritual liberation
Opening our pathway to heart intelligence
Workshop 4
The weeping, compassionate heart
Offering and devotion
Ritual and symbolism—the sacred space
Workshop 2
Healing the wounded heart
Enabling healing
Being finished with past emotional injury
Emotional release
Workshop 5
The surrendered heart of humility
Reverence and gratitude
When all is one
Workshop 3
The expressive, intuitive heart
Understanding the heart's desire
Creativity as a means of understanding heart intelligence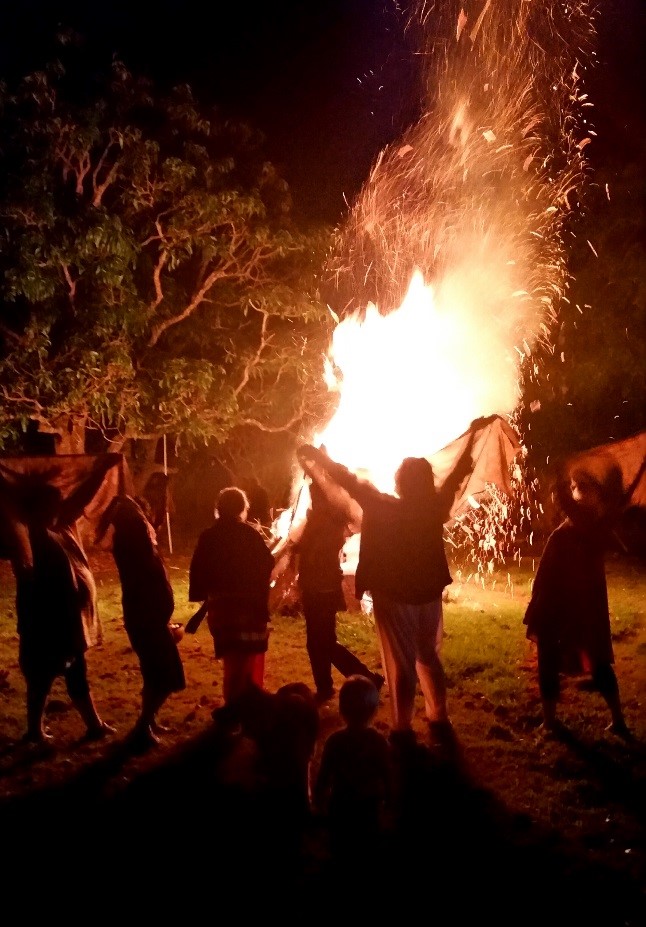 Healing From Within
This is a series of workshops or one three-day retreat focused on healing—emotionally, physically and spiritually.
We are all human and there are times when we become unwell—lose our equilibrium – emotionally, spiritually, physically or mentally. This is an ideal workshop for managing stress, anxiety, depression and illness by utilising our inner stillness, wisdom and strength.
Deep healing on any level of our body can only be achieved through an understanding of our inherent wholeness. How can we bring ourselves to wholeness when we do not truly understand what it is?
Each session offers skills and techniques to assist healing on a deeper level incorporating the following:
The breath as a healing tool
Gentle yoga for health and well being
Meditation and relaxation
The body mind connection
The energetic body—releasing blockages and replenishing life force
Intuitive body scans
Visualization, affirmation and prayer
Positive living skills
Learn how to nurture yourself, to open your body and mind and become free and joyful. Discover and utilise your inner stillness, wisdom and strength.
What Inhibits My Life – Where Am I Stuck?
Living Choice—Living Death
Identifying Loss
Reclaiming Power & Vitality
7 Steps of Commitment
The Responsibility of Change
When Healing Is
What Love Has to do With It
An Open Heart is a Healed Heart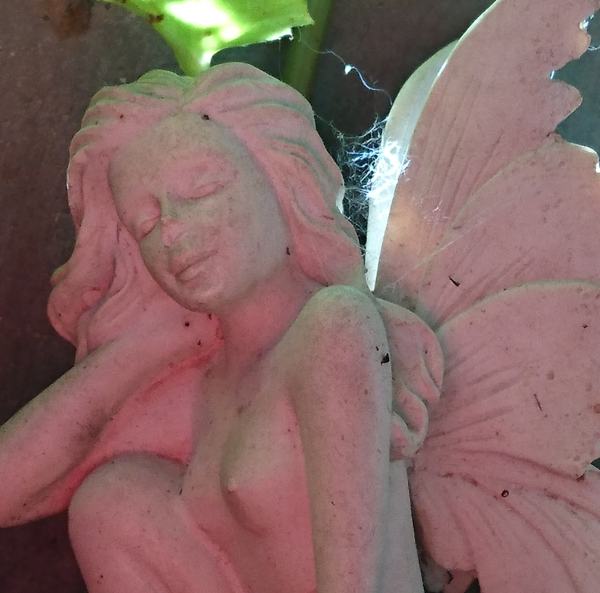 Women's Theatre
A combination of drama, movement, mime, story-telling, art and deep contemplation.
This workshop can be a one-off weekend of creative play or a weekly workshop culminating in performance.
It is powerful in removing inhibitions and barriers that restrict one from living as a wonderful creative self.
Love changes your body;
creates joyful pathways in your brain;
softens your face;
removes the stubbornness from your muscles
and sends rivers of gratitude through your nerves and veins.
Love makes your heart beat strong and steadfast in compassion;
lets your lungs welcome your breath as food;
ignites a gentle yet powerful fire in the centre of your core.
Love blends both feminine and masculine, so they may dance as one;
puts purpose in your steps,
gentleness in your hands
and light in your eyes.
Why are you not in love now?
It will not come to you wrapped in tissue and promises;
those promises will fade.
Love awaits you;
awaits your recognition;
awaits your willingness to allow its governance in you.
Create your perfect body as you will
but a body without love at the core of all its doing,
a body that does not know tender, divine love as its sustenance,
is a body deprived of joy.
© to touch the world