The Creative Spirit of Yogic Being – 2021
An Inspirational Practice for Sacred Living.
A Yoga-based training including:
The Five strands of Existence
Yoga Asana
Movement patterns
Creative movement
Body Intelligence
Breath and Energy
The Chakra Journey
Philosophy and Psychology of Yoga—Ethical Being
Meditation and Relaxation
Creative Expression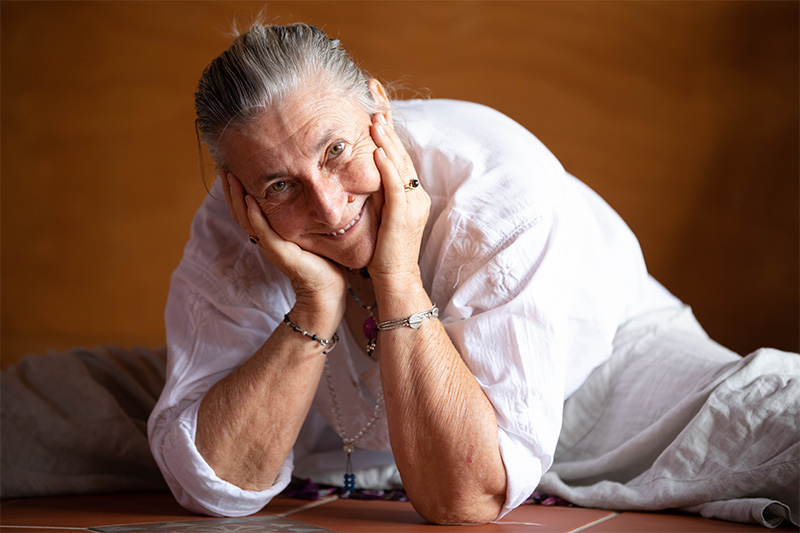 ABOUT THIS COURSE:
This Joyful Exploration of Being is about you, the individual participant, your relationship with yoga, with life, and with your own creative intelligence.
It is primarily an exploration of the Self aimed at offering a platform from which you can make your own discoveries and from which you can expand and seek your own path, which may include teaching. (NB this is not a yoga teacher's training but will include elements of such)
In this Yoga there are no levels – it is simply an open, even ground of exploration and discovery. It is of no concern if you cannot execute all of the yoga postures because of injury or limited flexibility.
First, and foremost, is the experience of Self-Awareness. Without a genuine knowing of the Self, we cannot create the space for others to know themselves. Ultimately, the essence of sharing is enabling our self to discover within, our innate intuitive intelligence, and to use this intelligence to enable others to open pathways to understanding and healing.
A key component of this course is creativity and exploring different mediums of creative expression such as intuitive art, textile art e.g. eco-dyeing, writing, movement and voice.
The course will be conducted over a eight-month period in beautiful surroundings. It consists of five modules (five weekend retreats) and a four-day intensive retreat. This intensive will be held between modules 4 & 5.
Module 1 The First Strand – Creation
THE BEGINNING – THAT FROM WHICH EVERYTHING ARISES
Key Words:
Awareness – Observation – Discernment
Support – Stability – Connection
Creation – Earth – Foundation
Breath
Module 2 The Second Strand – Maintenance
WATCHING YOUR FOOTPRINTS – THAT WHICH IS ARISING
Once the individual self can support itself, it reaches beyond
Key Words 
Maintenance
Identity – Integrity – Honour – Choice
Yielding – Release – Water – Creativity
MODULE 3 The Third Strand – Destruction for Renewal
THE GIFT OF CREATION – THAT WHICH FILLS ME
Keywords:
Energy – Strength – Resolve
Ego – Illusion – Enlightened Knowing
Personal Power – Self Esteem
Vitality – Radiating – Fire
MODULE 4 The Fourth Strand – The Giving of Illusion
OPENING LOVE WINDOWS – THAT WHICH GATHERS LIGHT
Keywords:       
Beyond instinct and survival
Compassion – forgiveness – empathy
Waiting – patience  Healing – self love
Emotional memories – samskaras
FOUR DAY INTENSIVE THE VOICE – THAT WHICH RESIDES IN ME
Key words
Sound – Voice
Self expression – effective communication
This Spiritual Life
The Dance of Creation
MODULE 5 The fifth Strand—Enlightenment for Liberation
Humility as our teacher
Yogic Living
Willingness – Surrender
Stepping Forward
N.B. This is a complete course. Participants are committed to attending all 5 workshops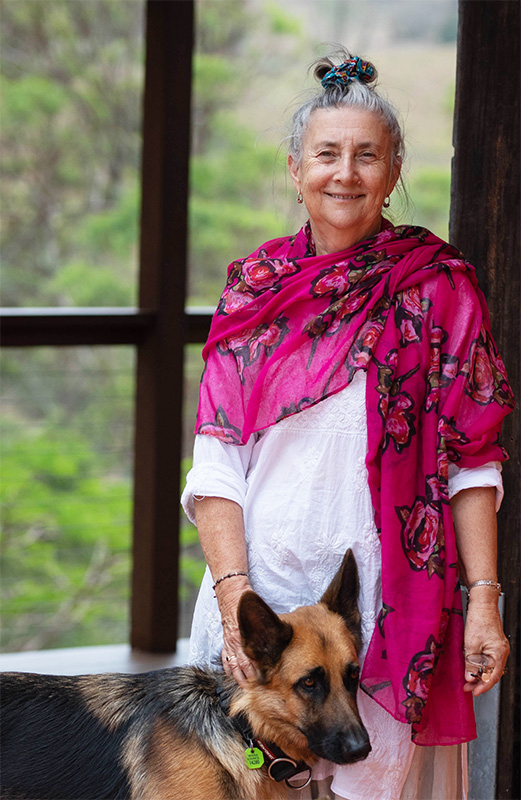 "It is your heart that beats the passion of your truth—your wisdom—through your veins; that which in time becomes your knowing."
            The Red Dove
Gerry Hillier has worked as a yoga teacher, drama and creative expression facilitator, script writer and director for the past 30 years. During that time, she has regularly conducted yoga workshops and training, devised drama programmes, and scripted and directed theatrical productions.
Gerry has also worked extensively with youth, women, indigenous communities and people with physical and mental disabilities and mental illness.
Gerry combines her understanding of creative expression with the philosophy of yogic tradition to bring together a dynamic series of workshops to facilitate self-inquiry and discovery. She promotes dramatic art, creative expression, movement, meditation and relaxation as ways of personal development and inner stillness, and  mediums for participants to explore their own issues and concerns, their relationships and their behaviours in order to gain a deeper understanding of themselves and their place in the world.
Gerry is also a writer and author. She lives in Queensland Australia.
DATES:
March 27/28
May 1/2
June 5/6
July 10/11
August 6/7/8/9
September 4/5
VENUE: The Gift Yoga Sanctuary – 234 Arthys Road Cooran (Adjacent to Hillier Retreat)
YOUR INVESTMENT:  $2750 includes camp fees, materials and meals.
Please note in order to maintain a personal, intimate experience numbers will be limited—book early to avoid disappointment. Bookings online. Payment options available.